Testimonials

hether it's real estate or managing rental villas, St. John Properties is dedicated to providing the best service with a friendly, professional attitude. Read what some of our clients are saying about us!
"Dear Mrs. Harris
We apologize for the delay in expressing our gratitude for all you did to prepare the home for our use at Christmas. Thank you for all you did to stock it and decorate it for our convenience and comfort. The 4 cousins loved their bunk room. Christine and Andrea loved the home and the island. Christine wants to go to college at the University on St. Thomas! We look forward to another visit soon and we hope to see you then."
- Blessings, The Veigas

"My wife and I recently stayed at String of Pearls for 10 days. This is a great vacation home with the perfect location. The owner has outfitted the home with everything and every amenity you'll need to relax and enjoy this beautiful island. With the upscale finishings and private location, spa, deck and patio directly on the water in Great Cruz Bay, you won't want to leave. The Westin St. John Resort is right next door. The home is an easy walk or short 3 minute taxi ride to downtown Cruz Bay and all the local waterfront bars and restaurants. Don't pass up the locals at Woody's streetside bar or Johnny's BBQ. The local beaches on the Northshore are spectacular world-class spots. The owner of the home (BJ Harris) is super friendly and laid back, she made us feel right at home, just ask her for anything you need or want to know! This wonderful villa vacation was the best spot in the Virgin Islands."
- Tom & Mary Lou, Ohio

"Thank you to B.J. and the entire St. John Properties staff for making our stay in St. John truly memorable. The villa was first rate, the views spectacular, and the St. John Properties staff were consummate professionals. We highly recommend B. J. and her staff if you're considering a vacation in the Virgin Islands. You won't be disappointed!"
- The Milligan Family, Lombard IL

"BJ: I wanted to thank you again for your help the week of 6/27/10. We were the residents at Calpyso Del Sol with the broken SUV. We didn't rent from you, but you were kind enough to jump our car, escort our friends to the villa and even loaned us your powerpack. This type of service definitely encourages me to work through St. John Properties the next time we visit St John. We greatly appreciate your help."
- Regards, Joe

"We loved everything about our trip to St. John! Thank you so much for all of your help facilitating our stay at Villa IntamaSea - with everything from special accommodation requests, our jeep rental, taxi tours, restaurant recommendations and more. The villa was wonderful, your service was excellent and the island was amazing. We highly recommend St. John Properties and a trip to St. John, US VI to everyone we know!"

- Sincerely, Paul and Melinda Butterfield

"We had a great time in St. John ! The food was wonderful, the weather delightful and the scenery gorgeous but the best part of our trip was our accommodations. The String of Pearls was so charming and the location the absolute best! Alec and BJ took care of everything and made us feel so special. I have recommended the String of Pearls to all my friends. We will definitely be returning to St. John in the near future."

- Arlene and Bob Davis, Vidalia, Georgia

"Our first trip to St John was for our daughters wedding. She was engaged here the year before and just had to have here wedding on the beach at Trunk Bay . The whole trip was nothing less than spectacular. I was so lucky to find St John Properties (internet search) to help me find a villa. Barbara and Alec were very knowledgeable and the villa they helped me select was ideal for the six of us. Glenmar has a beautiful view from the deck and all the comforts of home. The forty people who attended the wedding all agreed that St John is a beautiful island with wonderful, friendly and helpful people. The beaches and the scenery are out of this world. Even though we were there for the wedding, it was the most relaxing vacation I have ever had. If you have never been here before Spend a half day touring the island and then spend the rest of your vacation relaxing on any one of the beautiful north shore beaches."

- Bill Russell ,Salem, MA

"We just wanted to drop you a quick note to thank Alec and BJ for a wonderful vacation experience with St. John Properties. This was our first vacation together and my girlfriend and I both have said it was the best vacation of our lives. Obviously, when you go someplace new and try a service for the first time you aren't sure what to expect. We want to let you know that our expectations were exceeded at every turn. The service, the island, the accommodations, and the thoughtfulness were off the charts. WE WILL be back soon and WE WILL go through St. John Properties. Due to your outstanding service and the way you run your business, you have just obtained customers/clients for life. Thank you, thank you, thank you. We will see you again soon. Best,"
- Benjamin J. Doran

"Just wanted to thank you for making our trip to St John a special one We'd like to make an annual trip to St John and stay with St. John Properties. We just love the place we rented and couldn't imagine staying anywhere else."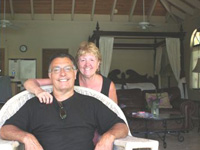 - Ed & Nancy, MA

"St. John is truly a magical place among the beauty of the Caribbean. The National Park and the beaches within it are some of the most beautiful beaches we have ever seen and we travel a lot. Between gourmet food as well as beach bar hamburgers what more could one ask for? St. John is an Island that one can easily fall in love with. A special thank you to St. John Properties for taking such good care of us during our Thanksgiving Holiday stay at one of your superb rental Villas. You all went far out of your way to make sure we had everything we needed or could have wanted. We look forward to vacationing with you again in the future."
- Joanne Walker

"It was great meeting you all at St. John properties yesterday. We really really appreciate your extended efforts on behalf of all of us at Sunset…what you are accomplishing in such a short time is remarkable. The breadth of your experience and the thoroughness you bring to the project, will be valued by all Sunset owners for years to come. Thank you so much."
- Jim & Janet, Cape Cod

"Thank you for all your help in getting our transaction completed. You are a "pro" by every positive definition. You are also, and most importantly, a wonderful person to do business with and to know. I truly enjoyed working with you and I look forward to the opportunity to do it again."
- Jim Dobrowolski

"BJ, first of all, thanks! Hope I get rich and buy another place down there in a few years! You've been a star, and Alison and I appreciate all you've done for us!"
- Rick Romkey

"We can not thank you enough for all the energy you put into our crazy real estate deal. Can't wait for you to see how we are turning that house into our home."
- Pat & Dennis Rizzo

"Thank you for everything you did for us. We never imagined that buying property on St. John would be so easy…and so much fun! Your knowledge of the island and your experience with the ins and outs of doing business there were an unbeatable combination—we feel as though we got the best possible service. You listened to us, understood our situation, and pointed us toward the perfect villa."
- Steve and Julie Beck, Washington, DC

"The investments I've made with the help of St. John Properties have been even more successful than I expected them to be—thanks, B.J.!"
- Peter Berce, Longmont, Colorado

"We appreciated your professionalism in the sale of our condo and purchase of the house. It was a complicated transaction in a short period of time, but your office is so efficient that everything went smoothly…a hassle-free experience. We would never consider using another realtor."
- Gayle Dahlman, Port Washington, New York

"We have done business with BJ Harris and St. John Properties for over 15 years. Our rental property was managed by them to the delight of our renters. When we decided to sell our property, there was no one else we would consider. They are an extremely knowledgeable and professional organization and have been on St. John for many years. One thing that we have always appreciated is the caring that the staff has shown for us and their clients. We trust them explicitly."
- Jack & Marie Pohlman, Madison , CT

"We have been fortunate to have BJ and her staff as our rental agent for our home on St. John for 15 years. We couldn't ask for more welcoming people to make our guests feel comfortable in our home in Paradise. Our guests have repeatedly praised their reliability, helpfulness, and resourcefulness. If you want to know what to do and where to go in the Virgin Islands, ask BJ. She is past president of the Virgin Islands Realtors Association and knows everyone who is anyone in the Virgin Islands."
- Andy Arrison, Walpole, MA