Our Team
B. J. Harris, founder of St. John Properties, has lived in the Virgin Islands since 1979. Originally a sea captain, she has had one foot on dry land since 1981, when she became the onsite salesperson at Gallows Point Condominiums. Through her involvement in the construction of Gallows, B. J. discovered a new interest—development—and she has built something on St. John every year or two for the past 14 years. B. J. has been licensed to sell real estate since 1981 and has served in numerous leadership positions at the local, state, and national levels of the Realtor organization. Her dedication to the profession and to the community is evidenced by the many plaques and awards for achievement and service in her office.
B. J.'s enduring love of the sea is apparent in the décor of her company's offices in its new Cruz Bay building. Classic yacht photos and ship models adorn the walls and cabinet tops, along with a framed copy of her 500-ton U.S. Coast Guard Master Mariner license. A 26-foot power cat, "Yellow Tail" gets her on the water now, but she says there's a classic J-boat somewhere in her future.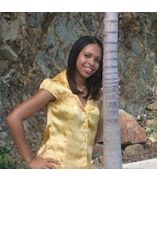 Andretti Samuel was born and raised on the island of St. John. She started her career in Real Estate profession working as a Personal Banking Loan Officer for Scotia Bank. While there, Andretti financed residential and commercial projects of all sizes. She joined the team at St. John Properties in 2010 as a Realtor and Rental Manager. Andretti's background in finance along with her superior knowledge of the local markets makes her the ideal contact for all your home buying needs. When Andretti is not working with buyers and sellers to find their next dream home you can find her enjoying outdoor activities such as boating, swimming, and hiking.